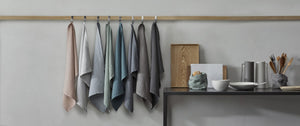 Froissé linen meets design
Society Limonta revisits old textile traditions joining them with a new contemporary design. The result of this experimentation is a series of accessories for the table and kitchen made in froissé linen. The breadbaskets, all available in the linen colour palette. A soft touch of colour on the table, but also in the bathroom to hold washcloths for guests or as practical baskets to gather odd small objects in every environment of the house.

Passionate chefs cannot make without two fundamental kitchen accessories: the linen apron and kitchen towel made in froissè linen. This type of fabric joins a ductile and practical softness to the elegance of a garment dye accessory in the typical desaturated colours by Society Limonta. 
---